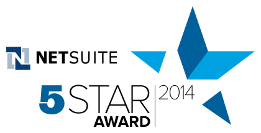 The Wall Street Journal Features Aminian as a Pioneer NetSuite Solution Provider
Recognized as a leading, 5-Star NetSuite Solution Provider, Aminian Business Services has been endorsed by NetSuite in the Wall Street Journal as a pioneer member of its Partner Program. According to the online press release, Aminian has "successfully capitalized on revenue opportunities in the cloud by delivering integrated solutions designed to help their clients transform business operations and achieve their business goals with NetSuite."
This significant event represents the maturity of the NetSuite Solution Provider program, as well as the continued successful implementation and support of the whole family of NetSuite products. Since initially partnering with NetSuite in 2001, Aminian has gained a tremendous amount of experience and has been awarded NetSuite's prestigious Star Award for 4 consecutive years.
Over the last decade, Aminian has transformed business operations of small and medium-sized companies throughout the country. Through strong industry experience, unrivaled NetSuite expertise, and proven accounting and business process knowledge, Aminian's team of NetSuite Consultants are able to customize NetSuite to meet any uniquely identified business requirements.
Read the full article HERE
For more updates, like us on Facebook and follow us on Twitter-@Aminianinc.