Aminian Automated Collections for NetSuite- Accounts Receivable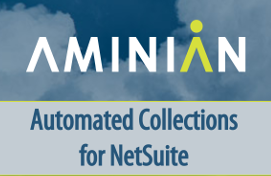 Accounts Receivable: A Normal Operation (Without Automated Collections for NetSuite)
Is your business sacrificing productivity and valuable resources to manage overdue invoices?  Every year, companies lose millions of dollars attempting to collect payment on delinquent amounts owed by customers. Manually managing these past-due invoices can be time-consuming and costly, requiring your business to dedicate additional personnel and resources. With Aminian Business Services, there is a solution.
Automated Accounts Receivable 
With Aminian's Automated Collections for NetSuite, users can fully automate their Accounts Receivable processes directly from their NetSuite account. This proprietary SuiteApp automatically communicates with customers based on the age of their delinquent account. The Collections Suite also protects against data-entry errors, prevents miscommunication with customers, and provides daily status reports to your A/R staff.
Key Features of Automated Collections for NetSuite
Automatic Dunning Messages- These e-mailed messages remind the customer about their past-due invoice and request immediate payment. Four different e-mails can be automatically be generated based on the age of the overdue account. Our Collections Suite executes on a user-defined schedule and stores all communications within the "Messages" tab inside your NetSuite account.

Dashboard Reminders- The Collections Suite provides users with a dashboard portlet that contains summary information of all past-due invoices. Collections summaries are categorized based the age of the past-due account and contain links to more detailed reporting.

Email Summary Reports- Administrators & managers can receive daily, weekly, or monthly collections summary reports via email. These reports contain information related to the customer, invoice, due date, amount due, and credit terms.

Customer Exclusion Option- The Collections Suite allows you to exclude specific customers or individual invoices by simply checking a box. Excluded customers are categorized as "Exception Invoices to be Received" inside your dedicated dashboard portlet.
Key Benefits of The Collections Suite for NetSuite
Decreased time and resource investment dedicated to managing collections in NetSuite

Higher turn over rate on Accounts Receivable

Low cost, high ROI

Increased employee efficiency and productivity

Improved financial management
To schedule a live product demo, contact us at (949) 724-1155 or email us at info@aminian.com.